Formulated with multiple antioxidant-enriched vitamins and minerals that helps prevent free radical damage, while also keeps the skin hydrated and in balance.

The Dr. Song Vitamin C Serum helps retexturize skin and brighten uneven skin tone while diminishing signs of aging. This Vitamin C formula is also paired with all the good stuff including: hyaluronic acid - helping reveal healthier, balanced skin.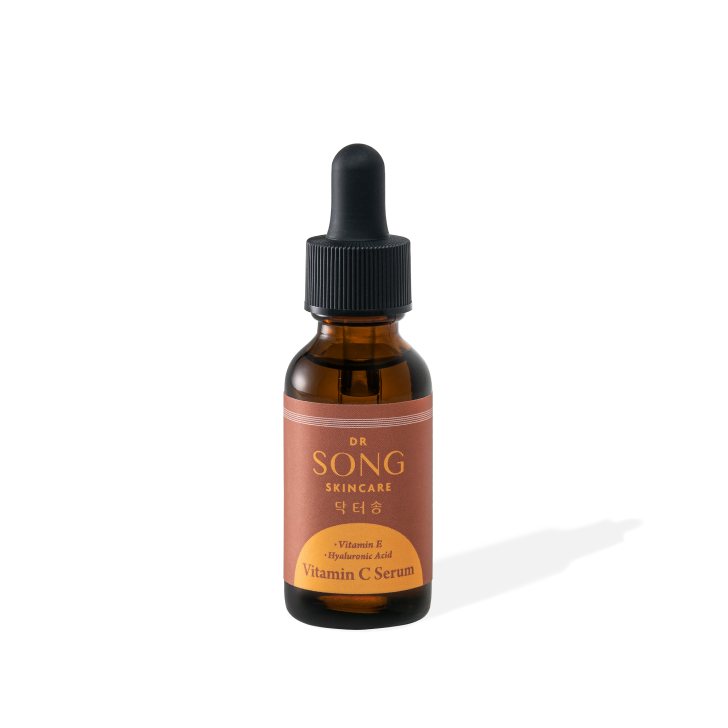 Benefits
Fights signs of skin aging (wrinkles & dark spots) and protects from damage caused by the sun rays, makeup, pollution and other elements
Keeps skin hydrated and smooth to help skin seal moisture
Reduces inflammation, fights acne, soothes eczema and restores the balance of your skin
Key
Ingredients
Vitamin E

Vitamin C (L-Ascorbic Acid)

Hyaluronic Acid
How to apply
Apply a nickel size amount all over face and neck as needed.
Reviews
Last year I stopped taking my hormonal birth control and it really screwed up my skin. I started getting constant acne on my shoulders, chest, back, and face. I swear to you with just a few uses of this product once a day my acne was G-O-N-E. I wish I would have taken before and after pictures to show off.
I have sensitive skin that is easily irritated and easily dries out, but not one single time have I had any issues with this product. I only need to use the tiniest amount, which really makes the product last. It does not foam or bubble when using. On the contrary it feels like watery conditioner. It rinses completely clean and leaves no residue or weird feeling on the skin. It has next to no smell, which is great. The ONLY thing I would stress about this product is that it has bleached all of my washcloths, so I am extremely careful not to get it on any clothes, towels, or rags that I care about.
I will absolutely be buying this for the foreseeable future.
I used this body wash almost two weeks. I use once a day. It is working on me. My back is softer than before. Also good for sensitive skin. No special smell. I usually put body lotion after shower to keep my skin moisture.
Bern using this for a week and I can already tell a difference!
I am 50 and have had bad acne for the last 2 years. The last 2 months were particularly bad with angry pimples, painful to the touch. I had no new breakouts and the swelling on the ones I already had went down considerably after the 3rd use. I usually do not wash my face twice a day and this cleanser still works well. It is a very easy to use cleanser and I haven't had a problem with over-drying either. This is the clearest my skin has been in 2 years.
I purchased this product over a month ago, and I wanted to wait to make a review, just to make sure I gave the product a fair chance. And this product most definitely has been effective in brightening my complexion and smoothing my overall skin tone. I noticed changes in within the first week of using. I originally purchased as a way to lighten two dark marks I have along the bridge of my nose from my eyeglasses. Did these marks go away? No. But they have lightened up some and have smoothed out greatly because they became scars from me picking at them. It could be me, not 100% sure if the vitamin C has this capability, but I've also noticed that my enlarged pores along my cheek area have reduced in size as well So overall, this is a great and inexpensive product. It also smells great. I don't use it daily but when I do, I enjoy the fact that it brightens and moisturizes my skin. And depending on how often you use this vitamin C serum, it can last quite a bit.
I suffer from inflammatory comedonal acne and have been using this product after the nightly Retin A treatment. THis is amazing. I carry it with me everywhere. It DOES NOT burn on my skin. It's great for putting under makeup products as well. it created a smooth base which actually helps my foundation to glide on better. Dr. Song is amazing. I work for a dermatologist and I can easily say that these are the best products for consumers on a budget.
This is a great product for an even better price! I was shocked when I saw that it was so cheap! You can't turn this deal down. And also it's not only vitamin C serum, it has the other ingredients in it too, lavender oil, rose water, aloe vera, and jojoba oil. It smells really nice, I can smell the lavender and rosewater for sure. It's kind of a milky white liquid and very thin. When I put it on, it feels really nice and like I said, thin. Even though it's a thin consistency, it still feels very hydrating. I love that it has the dropper with it which makes it easy to dispense, and I'm sure once you get to the end of the bottle you'll be able to get all of it out because of the dropper. It's a small bottle, it's only 1 oz but I've been using it for about 2 weeks and only used less than a quarter of the bottle. A little goes a long way. Since I have only been using it for two weeks I can't really comment on the effects of it but if I remember I will update this review after I've used it for longer. If you've been looking for vitamin C serum or just something natural to put on your face and neck, this is it!
What I like about this serum it has a small expense. Only 3 drops is enough to moisturize my whole face. I also really like that this serum is well absorbed, does not give a greasy shine and not leaves a residue. I have super sensitive and oily skin type. Therefore, I am often allergic to creams. Usually I dont need extra moistening, but since I moved to California I got another problem - dry skin and wrinkles. In LA the climate is so dry, so even normal skin type need a deep moistening. My old cream and serum did not cope with this task. And I decided to try something new. My friend advice me to try this Vitamin C Hyaluronic Serum and when I test it was something unbelievable. My skin became so soft, elastic, much more hydrated and complexion was improved. I will definitely buy it again. Also ingredients are natural, so it's save. I can totally recommend this item!
Do not let the affordable price fool you, this product works and it works well. Very well. I've been using this product over a week and in that short time my skin has become very hydrated (it was dry previously), acne scars are diminishing, and I feel my overall skin complexion looks more radiant. I'm a fan for life!
I love this product!! Actually,this is the best vitamin C serum I have ever used! I have complicated skin. Sun damage and adult acne. I am 50 and have been using quality skin care for over 20 years. I am so happy I found this product. The price is nice and I ordered 4 bottles from the good things others had placed on review. I like the fragrance too. My skin feels really nice and it seems to really balance my skin. Thank you and it's nice to have a family owned business taking pride in this wonderful serum!
So I have been using hyaluronic acid serums for awhile now. I tend to have very dry and textured skin. I had recently purchased a $130 bottle of medical grade serum from my aesthetician and knew I couldn't afford to pay that price long term which led me to Amazon. I was skeptical when finding this bottle for only $6 but read the good reviews and decided to give it a try. What I liked most is that it only has 3 basic ingredients. Water, hyaluronic acid, and less than 1% phenoxyethanol. Unlike other serums with 30+ things listed in the ingredients. I have been using this product for 3 weeks and have found that it works the same as my more expensive serums as far as moisture goes.
I got the larger size for one dollar more, at such a great price, I really didn't have much to lose if it didn't work or I didn't like it. Being in my early 50's, I started to see some facial lines on my forehead and I also have dry skin. I opened the (well packed) package of this hylauranic acid and noted it has a watery texture and no scent, which is great for those who don't care for perfumed scents. I like that is has no chemicals in it. I immediately shook it up and pumped out a couple squirts and rubbed it on the back of each hand, and remarkably noted in a few minutes, the skin feel and look much smoother. This does have a very tiny tiny amount of some type of alcohol in it, most likely as a stabilizer or preservative, but other than that it is all natural. This would be great to add to your existing face/hand or even body lotion or cream. I will be doing just that! Thanks for offering this at such a great price! A++
I couldn't be happier with this snappy user friendly moisturizer. It instantly quenches dry skin. It also noticeably tightens it to great more youthful appearing effect. I am pleasantly surprised at how much I enjoy and appreciate this product. Keep up the good work Dr. Song!
So I have to say... I was Very pleasantly surprised with this product. I've used other brands of Hyaluronic Acid Serum, but this one is the best!! It feels so silky on your skin. It doesn't have any strong fragrance. There are only 2 ingredients! And what I really appreciate is that the product is made and distributed by a family business. So I have the ease of ordering and delivery from Amazon but I'm still giving business to a family run company!!
Absolutely a 10/10 ! I've been using this product for about 3 weeks and my skin has changed so much for the better. My dark spots actually disappeared the first week. Love it.
So I was really skeptical about this product especially with it being so inexpensive. Needless to say it has exceeded my expectations. First photo is before starting application, second photo is after about 5 days. I have been also using the Dr. Song vitamin C serum w/ my moisturizer. I am a very happy customer! Pores are shrinking and dark spots are fading will continue use
Load more